Description
"A border is nothing for people who love."
Little Diego loves his grandfather, but they don't see each other often because Papá Diego lives in Mexico and Little Diego lives in Texas across the border. One day Little Diego's father gives him a pile of comic books that his father had when he was growing up. In those comic books Little Diego discovers Superman. Maybe if he was like Superman, then he could fly off to see his grandfather in Mexico! So Little Diego tells his mother that he wants a Superman outfit for his birthday. His parents buy him one, but, of course, Little Diego cannot fly. He's heart-broken. Still, because he has had the daring to imagine, a wonderful event occurs and he enjoys one of his happiest birthdays ever! Each illustration in Papá Diego was built out of terra cotta clay and painted with acrylic paints. This gives the illustrations a 3 dimensional quality which kids will love!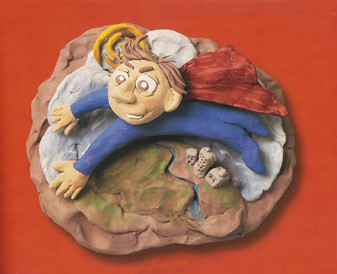 Listen to Benjamin Sáenz read from A Gift from Papá Diego on NPR! Click here to listen to the story on NPR about Basketball in Barrio that also features the book.
"A Gift from Papá Diego / Un regalo de Papá Diego is a tender love story of a book, perfect for all relatives who must live at any distance from one another. It's a kiss on the forehead at bedtime!"—Naomi Shihab Nye

"A stylist in both poetry and prose, Sáenz has now taken his magic of flight to younger readers. This is his gift to them. Parents, snuggle up to your children at night and read this delightful tale of Dieguito."—Gary Soto